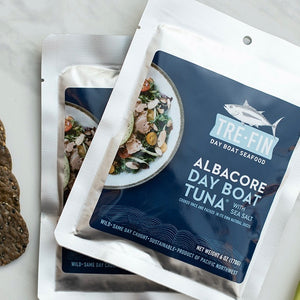 We start with wild, locally-caught, sustainable albacore tuna brought back to port within 24 hours. We hand-cut those fresh tuna in-house, one at a time, just like they were caught by our fishers using pole and line.
Cooking the tuna once (two times is the industry standard) in eco-friendly, BPA-free pouches preserves its natural and nutritional value while providing 6-times more heart-healthy Omega-3 fatty acids than canned tuna.
Each pouch contains 6-ounces.